Automate Vulnerability Response
UNIFIED VULNERABILITY MANAGEMENT
Mitigate 10x faster, using a fraction of resources
START FREE TRIAL
Mitigate vulnerabilities 10X faster, using a fraction of resources.
Accelerate AppSec to the Speed of Operations & ship secure code faster.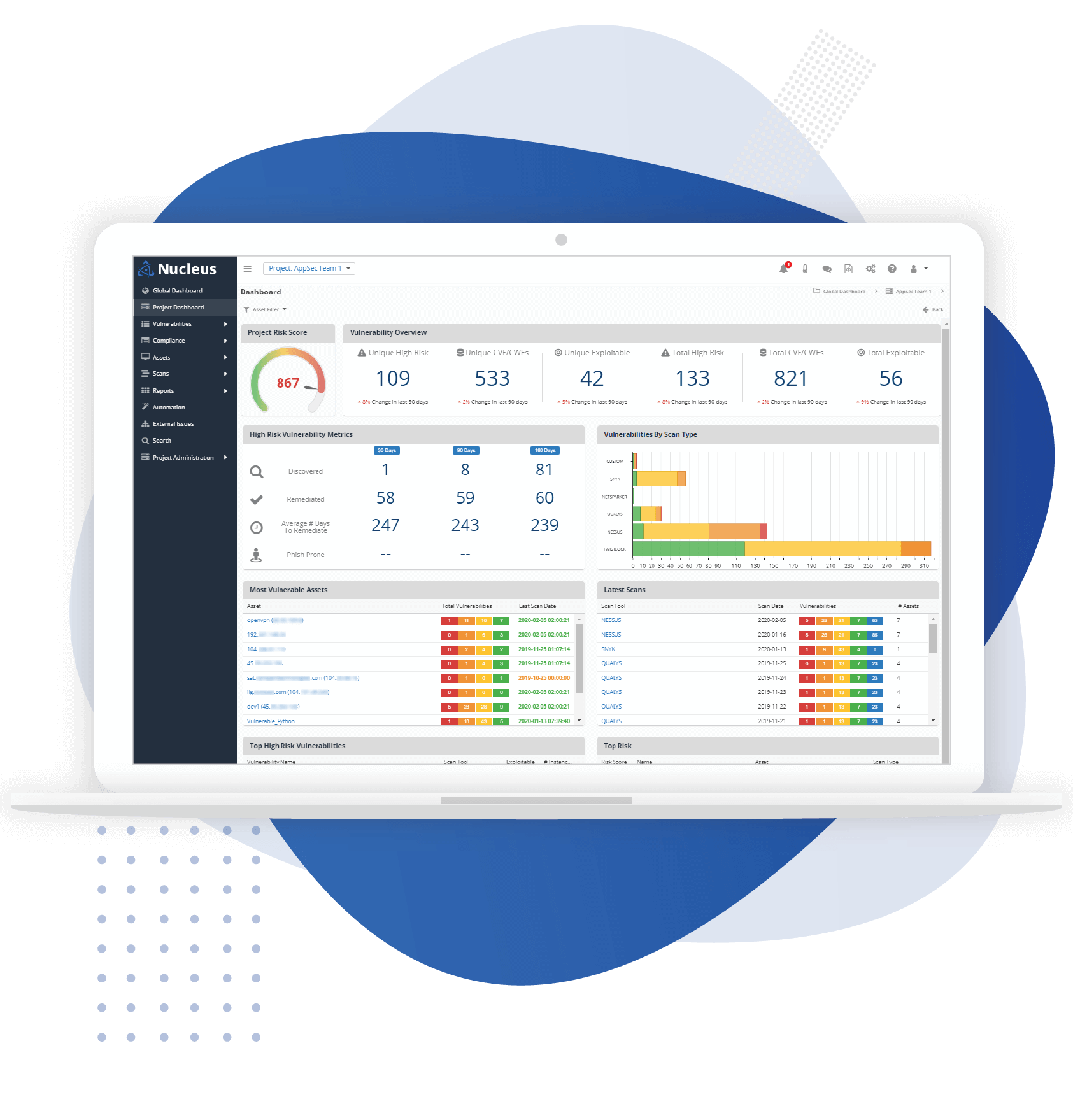 NUCLEUS FOR NETWORK SECURITY
LEVEL UP VULNERABILITY MANAGEMENT.
Nucleus is redefining the vulnerability management software category as the single source of record for all assets, vulnerabilities, and associated data. We unlock the value you're not getting from existing tools and place you squarely on the path to program maturity by unifying the people, processes, and technology involved in vulnerability management. With Nucleus, you receive unmatched visibility into your program and a suite of tools with functionality that simply can't be replicated in any other way. 
NUCLEUS FOR APPLICATION SECURITY
MASTER APPSEC AT THE SPEED OF OPERATIONS.
Nucleus is the single shift-left tool that unifies development and security operations. It unlocks the value you're not getting out of your existing tools and puts you on the path to unifying the people, processes, and technology involved in addressing vulnerabilities and code weaknesses. With Nucleus, you'll get unmatched pipeline integration, tracking, triage, automation and reporting capabilities and a suite of tools with functionality that give you the agility to deploy new secure software at the speed of operations.
INTEGRATED THREAT INTELLIGENCE
FIX WHAT MATTERS MOST.
Nucleus sits at the nexus of your vulnerability data, asset information, and embedded threat intelligence – providing contextually relevant data at your fingertips, allowing for automated response at scale. Nucleus now combines all the asset information, vulnerability data from scanning tools, and now threat intelligence from Mandiant into one single platform for vulnerability teams to eliminate laborious manual data analysis and accelerate decision-making and prioritization – all at no additional cost.
Nucleus Demo and Trial Offers
TRY IT BEFORE YOU BUY IT
OVER 100 SECURITY INTEGRATIONS
YOUR CENTRAL HUB TO CONTROL THE CHAOS OF VULNERABILITY MANAGEMENT.
Integrating with over 100 scanners and external tools, Nucleus unifies your existing security stack, creating a centralized hub to control the chaos of vulnerability analysis, triage, and remediation.

NUCLEUS CUSTOMER SNAPSHOT
TRUSTED AROUND THE GLOBE.
FEATURED RESOURCE
"WE SPOKE AND NUCLEUS LISTENED."
Wondering if you should build a tool in-house or work with a vendor like Nucleus? Read this first.
Interested in Nucleus? Have 8 minutes to spare? Watch a demo now on your own terms and own time.
Accelerate prioritization and response with integrated threat and vulnerability intelligence from Mandiant - at no cost.
The most critical metrics to track in Vulnerability Management, and what they reveal about the health of your program.
VULNERABILITY MANAGEMENT MATURITY
DO MORE WITH UNIFIED VULNERABILITY MANAGEMENT.
Don't just solve part of the problem. Nucleus was built to tie together the 5 step process of a mature vulnerability management program — from discovery to remediation and beyond.
DISCOVER
Scan for vulnerabilities using any number of scanner integrations.
ENRICH
Correlate and prioritize scan data alongside data from Asset Inventories, Threat Intelligence, and other business context.
ANALYZE
Launch analyst investigations to determine best fix while tracking progress & outcome.
REMEDIATE
Triage high-impact vulns and implement long-term fixes to mitigate on-going and sustained risk to infrastructure.
MONITOR
Measure progress, report on risk, track vulnerabilities, and make decisions for budget and program priority. REPEAT!
AT-A-GLANCE
Features and Pricing
Application
AppSec
Custom Pricing - Contact
Ship Secure Code Faster

Eliminate Stovepipes

Customize Risk Scoring

API-First Design
NETWORK
Enterprise
Custom Pricing - Contact
All-in-One Data Aggregation

Contextualized Prioritization

Automated Remediation

Custom Integration Support
MSSP
MSSP
Custom Pricing - Contact
True Multi-Tenancy

Manage from 1 Platform

Automate Reporting

Volume Pricing
WHAT NUCLEUS CUSTOMERS SAY...
"There are no words to describe how much easier it is to manage vulnerabilities using Nucleus"
Nucleus Security Blog
VULNERABILITY MANAGEMENT & APPSEC INSIGHTS
RSA Conference returns in-person June 6th-9th 2022. Nucleus Security will be featured at RSAC's...